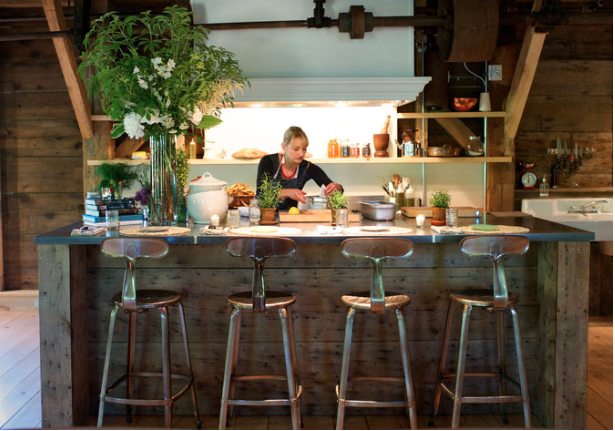 We drove right by Freedom, in central Maine, past grazing bulls and empty chicken houses, before realizing our mistake and finally locating the aptly named restaurant the Lost Kitchen.
Freedom, population 719 at latest count, is where the self-taught chef Erin French grew up, flipping burgers at her father's diner. After single motherhood forced her to drop out of college, she returned to the kitchen, opening a secret supper club in Belfast, 16 miles away. Her simple yet sophisticated fare quickly gained a following, and she opened her first restaurant there in 2011.
A year and a half later, she lost it in a divorce. So she turned a vintage Airstream into a roving kitchen, serving pop-up dinners in farmers' fields and other locations. One of these was a beautifully renovated 19th-century grist mill in Freedom. As soon as she walked in, she knew it was where she belonged. "When you're down and out," she said, "go home."
Like the food, the décor is both rustic and refined, with pulleys on the ceiling and foraged bouquets on the bar. Ms. French's daily-changing menu reflects the freshest ingredients from this area where a new wave of farmers has gone back to the land. (The restaurant is open until New Year's, then closed through April, while Ms. French writes a cookbook to be published in early 2016.)
A recent meal started with small, springy mussels cooked with rosemary and lime in a cast-iron pan, with plenty of bread to dip in the buttery broth. A silky soup was made with corn the chef picked that very morning in her mother's garden.
Tuna, line-caught off the Maine coast, was quickly seared and accompanied by fingerlings, yellow filet beans and raw purple ones that offered a pleasing crunch. Deep-fried chicken featured a tried-and-true Kellogg's Cornflakes crust and meat that was not only local but pasture-raised by one of the waitresses on duty. In fact, Ms. French said, her entire staff consists of the people who grow the food: "If you want good help, hire female farmers."
Weeks before the Lost Kitchen opened, Ms. French was told that Freedom never changed its Prohibition-era restaurant laws. Her ingenious solution was to create a store under the mill that sells wine and beer at cost. (We drank a fine Folk Machine pinot noir from California, purchased before our meal.) "I'm just not the kind of girl to let barriers get in my way," she said.
Read on The New York Times