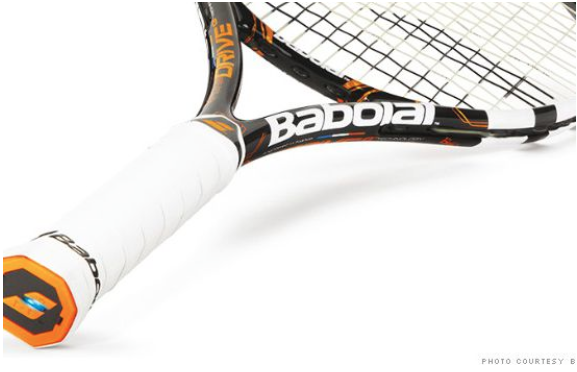 A tennis racquet that isn't just strung, but wired
In 1990, when Eric Babolat was a college student in France, he remembers watching Sharon Stone play tennis with a hologram instructor in the movie "Total Recall" and thinking, "That's the future of tennis." This was not idle reflection. Babolat represents the fifth generation in a family business of tennis equipment makers, started when his great-great grandfather made the first strings out of sheep gut, obtained from the slaughterhouses of Lyon. Their latest innovation, a racquet called Babolat Play, has just come on the market. This time, it's not just strung; it's wired.
The company first came up with the idea of a connected racquet a decade ago, thinking it would provide more reliable data about prototypes. "We have professional testers who analyze if a racquet is rigid, heavy, light," Babolat says. "We wanted to make sure that they were speaking the same language, and our engineers wanted captors to show exactly what was going on." They quickly realized this feature could prove interesting for players, too. "Nobody really knows what happens the moment the racquet hits the ball."
At the time, the technology wasn't up to the task, but three years ago it looked more promising, and Babolat gave it another go. To develop the system, it hired Movea, a leader in motion sensing technology headquartered in Grenoble. (In 2008, Movea acquired Gyration, who had worked with Nintendo on an early prototype for the Wii.) Babolat established two conditions. First, the technology would have to fit inside the racquet handle so that it wouldn't affect a player's game. Second, it needed to be accessible and useful to all players, not just pros.
They started by modifying the company's bestselling model, the Pure Drive. The Play version is the same weight, around 11 ounces, and looks nearly identical; the only obvious difference is two orange stripes at the bottom of the handle, buttons that activate the racquet and synchronize it via Bluetooth.
You have to remember to switch the racquet on before playing — and, prior to that, to charge it. Afterward, you download the data to your user account on a computer, tablet, or smartphone app. Here you can see a breakdown of your shots by number and classification (forehands, backhands, serves, smashes), the power of your strokes in percentage, based on the speed of the racquet (100% corresponds roughly to a flat serve of 136 miles per hour), the type of spin you use and how often. An impact locator shows what percentage of your shots hit the sweet spot or the areas around it. Cyrille Soubeyrat, vice president of engineering for Movea, says this was the most complicated feature to make, requiring the development of brand-new technology.
Soubeyrat did his best to explain in simple terms what happens inside the racquet during play. In the handle, sensors deliver signals to an electronic system, which executes algorithms. Some analysis takes place continuously, such as the racquet's position in relation to the ground. Other measurements start each time the ball hits the strings, setting off a reaction like when a car crash sets off an airbag.
At the moment of impact, the racquet experiences several modes of flexion and torsion, and at different frequencies. The electronic system analyzes all of these vibrations simultaneously, and within 200 milliseconds produces information about 20 different properties of the shot. At the same time, it recognizes and rejects all the "parasitic" gestures, such as bouncing the ball between serves or using the racquet to whack clay off one's sneakers.
Soubeyrat says the technology is remarkably accurate, even if there are things it cannot measure, like whether that ball you hit so powerfully went right over the court and into the parking lot. Eventually, he says, other tools could round out the offer, such as sensors in the shoes.
One of the most addictive things about the new technology is the gaming aspect. Each player starts out as a "newbie" and can work his or her way up through levels like a videogame. "There's nothing more frustrating in tennis than feeling you aren't progressing," Eric Babolat says. "To put a bit of reward in the application seemed like an obvious thing to do." You can join the global Babolat Play community, check your ranking, and compare your performance to other players, even Rafael Nadal. If you like what you see, you can share the data on Facebook.
Can the racquet improve a player's technique? "The advantage of gaming is that it motivates people to play more tennis," Babolat says. "It's exciting to see how you evolve." The company lent me a Play for a couple of weeks to try out. After noting (to my chagrin) that all of my serves were flat, I concentrated on adding some spin and immediately saw the difference, on the court and on the app. As for the impact locator, I managed to hit the sweet spot a good part of the time, but also hit a sizable percentage below it, and realized that I wasn't bending my knees enough. Afterward, going back to my old racquet was a bit of a letdown.
Babolat introduced the Play in mid-December in the United States, its No. 1 market, selling it in 50 specialized stores. (It launches in Europe in May.) Though it was on the shelves for only 10 days, it took fourth place for December's overall tennis racquet sales in the U.S., in terms of dollar value — at $400, it is roughly twice the price of a normal racquet. Eric Babolat notes that in 2013, his company sold 1.8 million unconnected racquets worldwide, and he feels that the potential for connected racquets is huge: "I'm convinced that 10 years from now all racquets will be wired."
Meanwhile, two other companies have been working on a similar concept. Artengo, a French brand specializing in modestly priced racquet sport equipment, now sells a gadget that attaches to the outside of a handle and gathers data (also developed by Movea). And in January, Sony showed off a prototype sensor at the Consumer Electronics Show in Las Vegas. Weighing under three ounces and made to snap onto the butt of certain Yonex racquets, it comes out in Japan this spring.
Babolat sees this competition as encouraging. "I'm surprised that Sony is among the first to enter this field, since sports is not really their thing. But it's reassuring to see that they are focusing on tennis, and that they believe it has potential as online community entertainment."
Last July, the International Tennis Federation wrote its 31st rule, permitting the use of approved "Player Analysis Technology" during competitions. Babolat is looking forward to the day the Play makes its debut in an official tournament. For the moment, however, only the Pure Drive is wired, and the company's star ambassadors — Nadal and Jo-Wilfried Tsonga — use a different model.
The pros had the chance to try the new racquet at a demonstration match at Roland Garros in 2012. According to Babolat, Nadal and his coach, Antonio Nadal, were like children when they got their hands on it — Toni teasing his nephew that now he'd see how badly he was serving, Rafa responding that he would show his uncle just how powerfully he was hitting. "They are always on the lookout for the detail that make a difference," the Frenchman says. "A player feels certain things, and his trainer sees others. For the first time they had quantifiable data they could discuss."
Before the demonstration began, a 14-year-old ball boy went up to Babolat and told him excitedly that the racquet combined his two favorite activities, tennis and video games. "It confirmed that we were on the right track, especially with young people," Babolat says. "This is not just an old sport, people wearing white at Wimbledon. Tennis is cool."