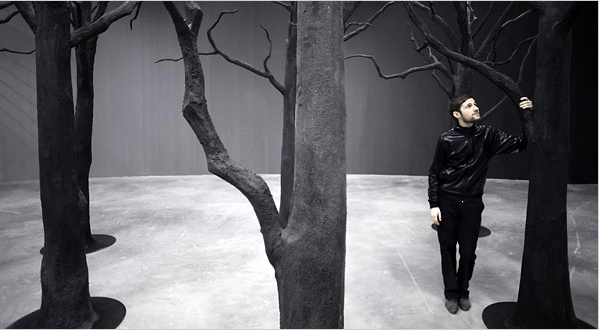 Even an artist who likes to fool around with spatiotemporal dimensions can get stressed out by a deadline. Last month technicians were working day and night to prepare for the opening of Loris Gréaud's "Cellar Door" project at the Palais de Tokyo in Paris, but Mr. Gréaud was visibly anxious that it would not be ready on time.
The strain was understandable. Mr. Gréaud, barely 29, is the first artist to take over all 40,000 square feet of this prestigious contemporary-art center. He has devoted two years to the realization of his exhibition, and the budget for the project has turned out to be double what any other show there has cost.
The director, Marc-Olivier Wahler, admitted it was an "all or nothing gamble" to give carte blanche to such a young and relatively inexperienced artist. Yet when the two started planning the undertaking, Mr. Wahler said, "it became clear that his project was so large and encompassed so many different systems, he had to have the whole space." (Mr. Gréaud, his gallery and the filmmaker Claude Berri, who bought an artwork, helped defray the costs.)
What Mr. Gréaud has done with it is both enchanting and mind-blowingly conceptual. Like Alice down the rabbit hole, visitors enter through a black door that glides open automatically as they approach. Once inside they wander through the artist's strange, dark universe, divided into various attractions called bubbles.
A vending machine sells candies that taste like nothing. A passage leads under a crumpled resin ceiling that was molded from the earth after a subterranean fireworks explosion — as Mr. Gréaud explained, a "celebration and manifestation of underground activity." A steel-and-mesh structure reveals paintball warriors shooting at one another with pellets in the patented blue developed by the artist Yves Klein as the color of the immaterial.
Yet in a reflection of Mr. Gréaud's artistic process, the work will change as it travels to other locations. It will remain at the Palais de Tokyo through April 27 and reappear in totally different forms at the Institute of Contemporary Arts in London, the Yvon Lambert gallery in New York, San Francisco's CCA Wattis Institute and the gallery of Michael Benevento in Los Angeles.
As with all of Mr. Gréaud's work, "Cellar Door" isn't limited to one place or time, nor to the conventions of a typical museum exhibition. It boomerangs across disciplines, locations, time periods, even between reality and the immaterial. "I like creating beautiful stories that connect to make something vast, going beyond the public's understanding or even mine," he said. He refers to his process as an "empirical machine," a production chain involving architects, musicians, engineers and historians and spanning fields as diverse as quantum mechanics and neurology. Comparing himself to an orchestra conductor, he guides each project while letting it take on a life of its own.
In "Cellar Door" a forest of tree sculptures coated in gunpowder leads to a clearing where a film projector shuts down the moment a viewer arrives. Air currents blow down from the ceiling in the configuration of walls to create a phantom apartment, and plastic bottles release the imagined smell of Mars.
Elsewhere, in an empty viewing room, a screen shows meaningless forms in faded colors — what Mr. Gréaud calls a "story that doesn't reveal itself" — shot on super-16-millimeter film he discovered in the basement of the Palais de Tokyo (formerly a cinémathèque) and then used to make a scripted movie without telling the actors or crew that the film stock had expired. (Hence the abstract masses.) "Everyone was mad at me," he admitted sheepishly. "But if I had told them beforehand, nobody would have played along."
The exhibition space is filled with sound, from the pop of paintball guns to static that seems to come from the great beyond. For six hours a day the sound, light and video effects are controlled by a technician in a central command booth. When the technician is off duty, the exhibit is on standby, with everything turned off, a state Mr. Gréaud compares to a slumped marionette. "This is when the exhibit will be strongest, when the visitors can imagine what goes on," he said optimistically. "It's a paradise of conceptual art."
The Palais de Tokyo exhibition is only one of three parts that make up "Cellar Door." Mr. Gréaud commissioned an original opera score and libretto that were recorded by the Orchestre Philharmonique de Radio France. The work is also titled "Cellar Door," a word combination that J. R. R. Tolkien once singled out as a particularly beautiful phrase. A fantastical tale, the story of a studio without a door, the opera aims to be a musical representation of the exhibition, opening it up to infinite future permutations.
Part 3 is in principle a 4,000-square-foot building Mr. Gréaud is having constructed outside Paris where he will live and work. (It will be closed to the public.) He explains that the "Cellar Door" project — exhibition and opera — is ultimately all about an artist's studio, or what he calls a "dreaming factory." Thus he has reversed the usual chain of events, going from an exhibition to the birth of an atelier.
"What interests me is to take an idea to its conclusion," he said, "that it doesn't remain a utopia, but crashes into the real world."
Like his work Mr. Gréaud's own career path has been anything but linear. Born in 1979 in Eaubonne, a middle-class town on the outskirts of Paris, he chafed at authority and couldn't adapt to the formal school system. He studied flute at a national music conservatory until he was expelled at 14 for forming a studio of "musical unlearning" after hearing the compositions of John Cage. Then he discovered experimental cinema and received a graphic arts degree, sponging up the influences of Lewis Carroll, Marcel Duchamp, Buckminster Fuller, Stan Brakhage, William S. Burroughs and David Lynch.
Since his first exhibition in 2002 he has managed a cometlike ascent with his enigmatic productions: cross-fading sound frequencies to put listeners to sleep, towing an ominous black sculpture around Paris in fleeting appearances, reproducing the vibrations of the Big Bang.
Mark Sladen, director of exhibitions at the Institute of Contemporary Arts, said the "element of instability" is what intrigues him, the way Mr. Gréaud's projects "move between rumor and fact." Mark Alizart, adjunct director of the Palais de Tokyo, said the artist "sculptures the immaterial."
It can certainly seem that way. In 2006 the Frieze Art Fair in London invited Mr. Gréaud to create something, and he responded with 10 nanosculptures developed in cooperation with France's National Center for Scientific Research. He says each was 100 times smaller than half a hair and visible only through an electron microscope — which was not provided — prompting The Guardian newspaper to tease, "How much for the invisible sculpture?" Yet they all sold, and Mr. Gréaud mused that he should have made more.
It's the type of work that strives to blur the limits of reality, or at least adjust the viewer's perspective. He hopes to mass-market Celador, his colorful candy bereft of flavor. "A taste of illusion," its striped package reads, trumpeting the imagined pleasures of a product stripped of its intrinsic properties.
It's both a comment on modern consumption and a reflection of Duchamp's belief that the viewer finishes the work of art. The gummy little bonbons are so bland they're offensive. Nonetheless the Palais de Tokyo's vending machines keep selling out.
Read on The New York Times