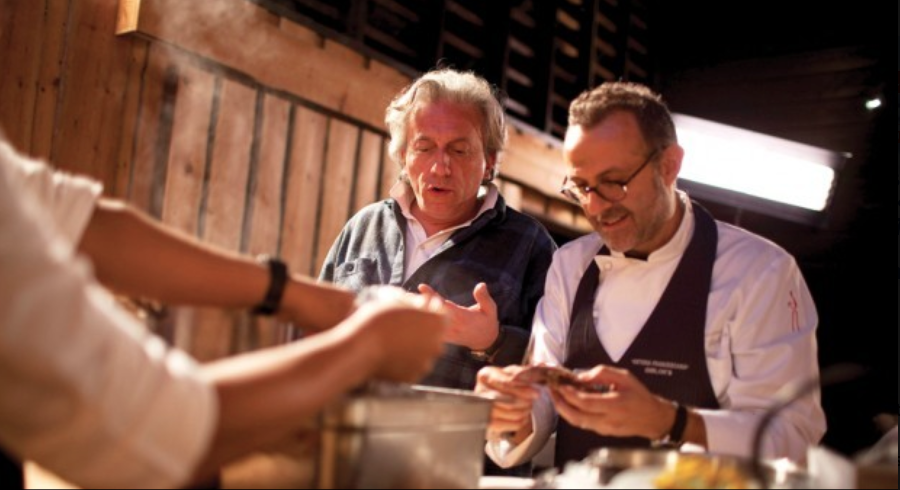 In Massimo Bottura's hands, the traditional Italian peasant pasta and bean dish known as pasta e fagioli is rethought as a gustatory metaphor for the people who have influenced him.
A cream of beans and foie gras represents French chef Joel Robuchon. A rosemary froth pays homage to Spaniard Ferran Adrià. His grandmother is channeled by a crust of toasted parmigiano like those he loved as a boy in a dish utterly new, yet comfortingly familiar to Italians.
"An old man came into my restaurant and started crying when he bit into the parmigiano crust," says Bottura. "He hadn't tasted one since he was a boy."
Bottura epitomizes a new generation of Italian chefs who are shaking up the classics and finally getting the acclaim they deserve.
Eight years ago he nearly closed his restaurant, Osteria Francescana in Modena, because local diners didn't appreciate his conceptual, avant-garde cuisine and its oddball references to the likes of artist Joseph Beuys or jazzman Thelonious Monk. This October, the restaurant guide of the esteemed magazine L'espresso crowned him the country's top chef and gave him the highest score they have ever granted, 19.75 out of 20.
Italy is a country where tradition looms large, where polenta dates back to Roman times and eyebrows raise when bolognese sauce covers any other pasta but tagliatelle. Even the government has been known to resist culinary change; while the Spaniards were revolutionizing the food world with molecular gastronomy, Italian bureaucrats were drawing up a bill to outlaw the use of chemical additives in restaurants.
"In Italy, people are scared of experiments," says Bottura. "You have to be like a salmon going back the wrong way, thinking 'let's hope I put the eggs in the right place or they're going to kill me on the public square.' "
But at last, a culinary renaissance is taking place, as chefs throughout the country are flaunting convention and giving free range to their imaginations. Contemporary cuisine even played a starring role in the recent Italian movie "I Am Love," jolting Tilda Swinton's character out of her boring haut-bourgeois existence and into an affair with a chef young enough to be her son.
Many of these trailblazing chefs expanded their horizons by leaving Italy, traveling and working under masters from Alain Ducasse to Adrià. Others followed in the footsteps of the modern maestro Gualtiero Marchesi, who studied French nouvelle cuisine and Japanese minimalism and became the first Italian chef with three Michelin stars in 1985.
Italy boasts as many cooking styles as regions, and the current crop of risk-takers are playing with the traditions and products of their specific surroundings. In Siena, chef Paolo Lopriore's menu includes a reinterpretation of the humble Tuscan soup called ribollita. Carlo Cracco in Milan adds coriander juice to the classic saffron risotto, and also created the dishes for "I Am Love." The Sicilian chef Ciccio Sultano combines local ingredients in mind-blowing ways, such as sea urchin with salted ricotta and bitter honey. In Turin, at Combal.Zero, Davide Scabin has been rethinking pasta itself.
"I never worked with hard pastas," he says. "So when a producer brought me a type I liked, I approached it like a child, without rules." He boils macaroni for a sacreligious 50 minutes, then turns it into an ethereal soufflé.
Anna Morelli, editor of Apicius magazine in Italy, points out that the latest worldwide culinary movement is a no-brainer for her compatriots. "Now that there is this call back to nature, towards simplicity, it's not much of an effort for Italians," she explains, "because they always had one foot on the ground." Chefs here have cultivated their own gardens and prioritized artisanal products for a long time.
After all, this is the home of the Slow Food movement, which counts many contemporary cooks as allies. Bottura, for example, has helped to bring the white cows of Modena back from the brink of extinction. Their milk makes the world's best parmigiano reggiano, and has done so as far back as medieval days. It's only when Bottura turns parmigiano cheese into air that you know you've left the Middle Ages behind.
Read on Associated Press